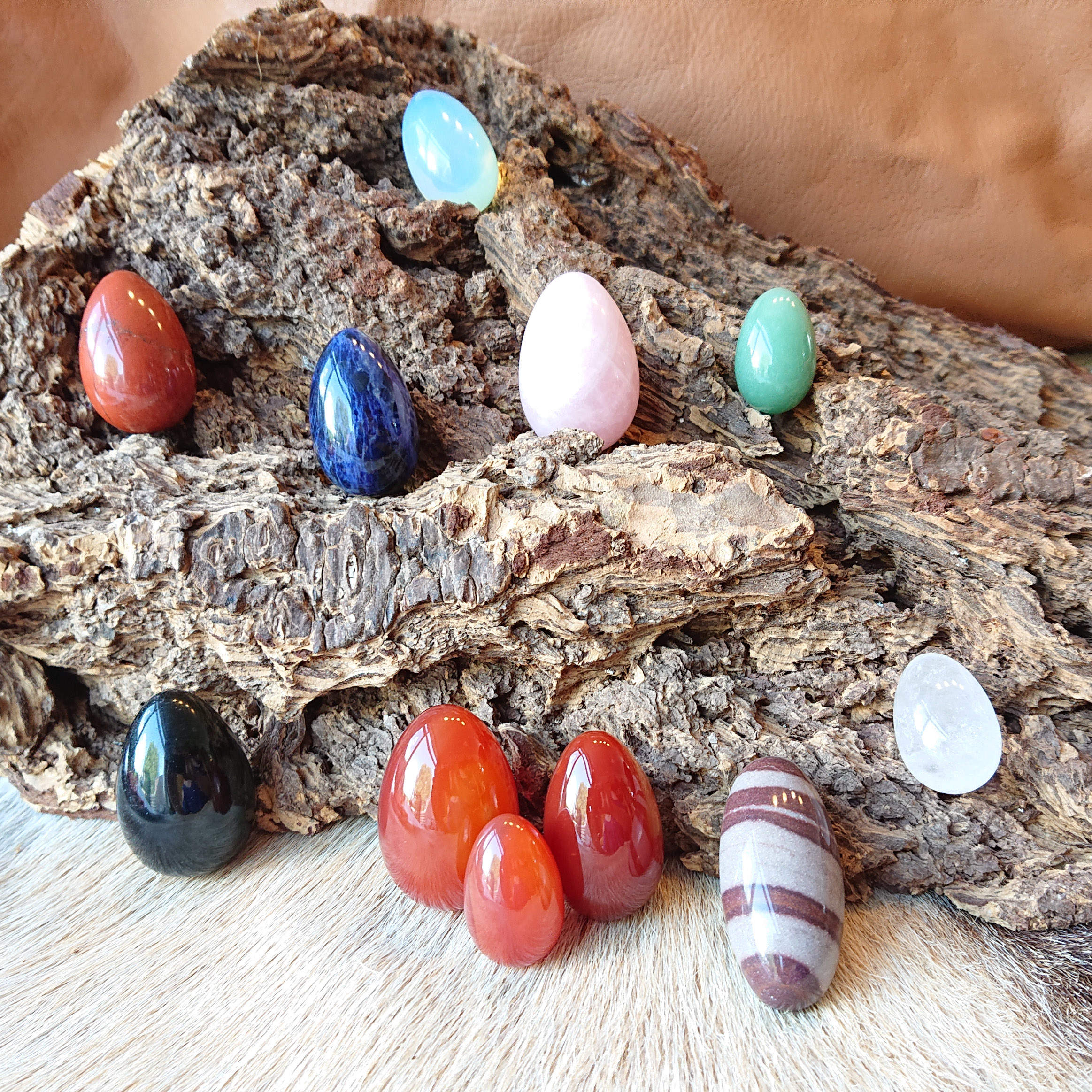 Pterodactyl Egg
€50.00 incl. btw*
Slechts 2 resterend
De Pterodactyl Eggs (ook bekend als yoni eieren) wordt al eeuwen lang gebruikt door vrouwen om hun bekken te oefenen en te verstevigen. Elke set bevat drie stenen van verschillende maten zodat je de betrokken spieren rustig op kunt bouwen.
**Wij hebben nu ook een XL maat in Rosenkwarts en Kwarts dus geef aan welke van de drie u liefst wil in de set! Aanders kiezen wij de small, midden en groot maat voor u.**

Rode jaspis : Activeert je energie, stimuleert de fantasie en helpt je oprecht en eerlijk zijn (altijd belangrijk voor spelen!)
Obsidiaan : Geeft je een sterk inzicht, vermindert angst, verscherpt je zintuigen.
Rookkwarts : Werkt ontspannend, ondersteunt een positieve houding en werkt aardend
Rozenkwarts : De steen van de liefde, voor zowel jezelf als de romantische liefde. Kalmeert en ondersteunt zelfacceptatie.

Of, in de woorden van de makers zelf:
Pterodactyl Eggs, also known as yoni eggs, are made with woman in mind. This set of three stones is specially designed to delight every Cave Girl. Used since ancient times to strengthen the Kegel muscles of the vagina and provide extra sensation, these gems will help you get your rocks off! Kegel muscles and pelvic floor can be weakened by childbirth, weight gain, and aging. Strengthening these muscles helps make sex more enjoyable for yourself and your partner. It can also help with increased libido and natural lubrication while decreasing incontinence and discomfort. Try using these stones to exercise your Kegels, or while you are masturbating, or even during sex!
Working with your Pterodactyl Eggs:
Each set comes in three sizes, a large, medium and small egg. Start with the largest egg, these will be the easiest to feel and work with usually. Insert the large egg start by lying down. Try to feel the egg inside of you and use your muscles to contract and relax around the egg. Try to 'hold onto it' for a little longer each time and try in different positions. As the larger egg is also heavier, gravity plays a big role too so if you try and stand, it is very common for it to just slide out (especially in the beginning). Don't be discouraged, like every other muscle in our body, this takes lots of practice! If you have the time, it is best to let the egg come out in its own time. Your body sometimes knows better when its done practicing than your head. But if you are done before it has naturally come out, just remove it manually.
When you feel ready for a new challenge try the next size down. This one won't be as quick to fall out because of gravity but will be harder to grip with your kegel muscles. And next go for the smallest size!
With these toys especially, listening to your body is vital. No guide or instructions are perfect for everyone so if you take things slow and be patient with yourself, you can find what works best. Cave Girls Delight is made to help you connect to yourself first and foremost.
Productinformatie:
Merk: Cave Girl
Soort: Stenen Yoni ei set
Materiaal: 100% natuurlijk steen, Onyx, Rosekwarts, Rookkwarts of Rode Jaspis
Lengte: Klein : 2.75 cm, Middel : 3.75 cm, Groot : 4.25 cm, Extra Groot : 4.5 cm
Doorsnede: Klein : 1.25 cm, Middel : 2.25 cm, Groot : 2.75 cm, Extra Groot : 3.25 cm
Waterproof: Ja
Bijzonderheden: Omdat elke steen handgemaakt is, kan het zijn dat de kleur of maat net wat afwijkt.
* Gebaseerd op verblijf in Netherlands. Btw tarieven voor andere landen worden berekend aan de kassa. Prijs exclusief btw: €41.32.