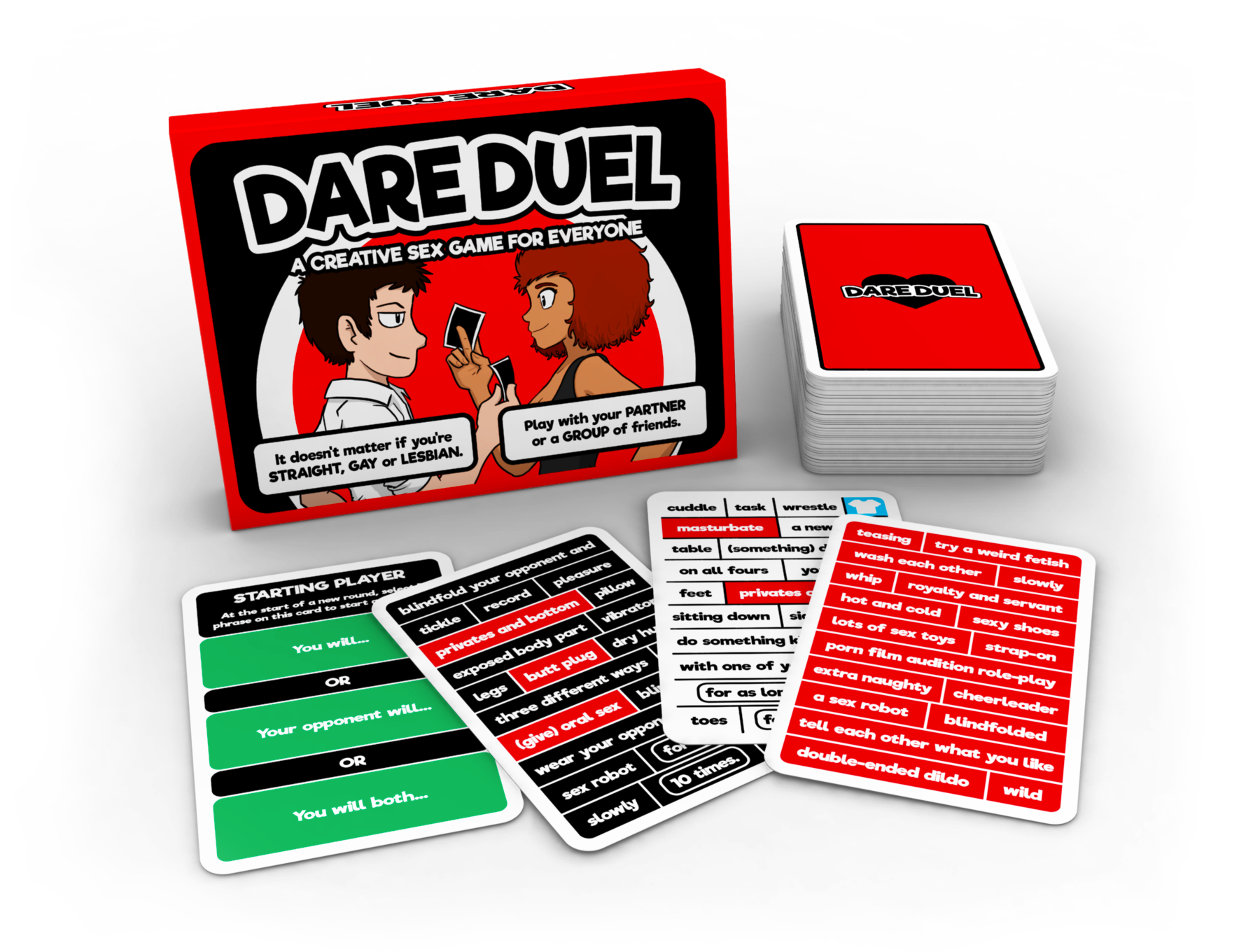 Dare Duel
€17.00 incl. btw*
Slechts 3 resterend
Dare Duel is een flexibel spel waarin twee of meer spelers elkaar kunnen uitdagen tot verschillende spannende activiteiten. Het spel is zo opgebouwd dat het geschikt is voor elke groepssamenstelling - seksuele voorkeur speelt geen invloed op de speelbaarheid van het spel.
Veel van de spellen in dit genre bevatten kaarten met opdrachten, en dat is natuurlijk heel spannend. Nadeel is echter, dat de spelers op gegeven moment alle opdrachten al eens hebben gehad. Dare Duel lost dit probleem op door de spelers de opdrachten zelf te laten samenstellen op basis van kernwoorden welke op de kaarten worden gegeven. Combineer zelf om de uitdagingen zo spannend of grappig te maken als je zelf wilt. Voorspel, kink, of gewoon hilarische uitdagingen voor jezelf en je partner(s), je hebt het helemaal zelf in de hand.
Of, in de woorden van de makers zelf:
In Dare Duel players take turns drawing cards and selecting words or phrases to create sexy dares to act out, while also battling over who will perform the dare. With hundreds of different words and phrases to choose from, the combinations are almost endless, making every game unique. Your sexual preference does not matter, and you can either enjoy the game with your partner or a group of friends. Dare duel is for everyone. A new experience every time Most sex games contain prewritten erotic dares and challenges, and no matter how fun and well-written they are, players will eventually have tried them all. Dare Duel is different since it instead contains hundreds of different words and phrases, allowing YOU to create new dares every time you play. Unique gameplay The nature of the game makes it highly customizable in terms of how hot you want want the game to be and how quickly you want it to heat up. Also, since you pick the words that make up the dares, you decide what type of dares you're in the mood for. Romantic foreplay, seriously kinky stuff, or just silly and hilarious dares, it's up to you. Not only for straight couples First of all, it does not matter if you're straight, gay, lesbian, or anything else. Dare Duel will work for everyone regardless of sexual preference. Secondly, the game has two different sets of rules. The standard rules are for 2 players, making it perfect for couples. If you're feeling daring you can also enjoy a 3+ player version of Dare Duel with as many players as you want. Video explaining how to play:
https://youtu.be/Ot_C1tHM_mA
Contents: 91 Playing Cards. 15 Reward Cards. 1 Starting Player Card. 1 Common Words Card. 2 Bail Cards. Playing time: You decide. 30 minutes or a whole day? It's up to you. Language: English. Dimensions: 12 x 9 x 2 cm (6.7 x 3.5 x 0.8″). Created by: Tingletouch Games (
www.tingletouch.com)
.
**Deze product kan via brievenbus pakketje verzonden worden**
* Gebaseerd op verblijf in Netherlands. Btw tarieven voor andere landen worden berekend aan de kassa. Prijs exclusief btw: €14.05.