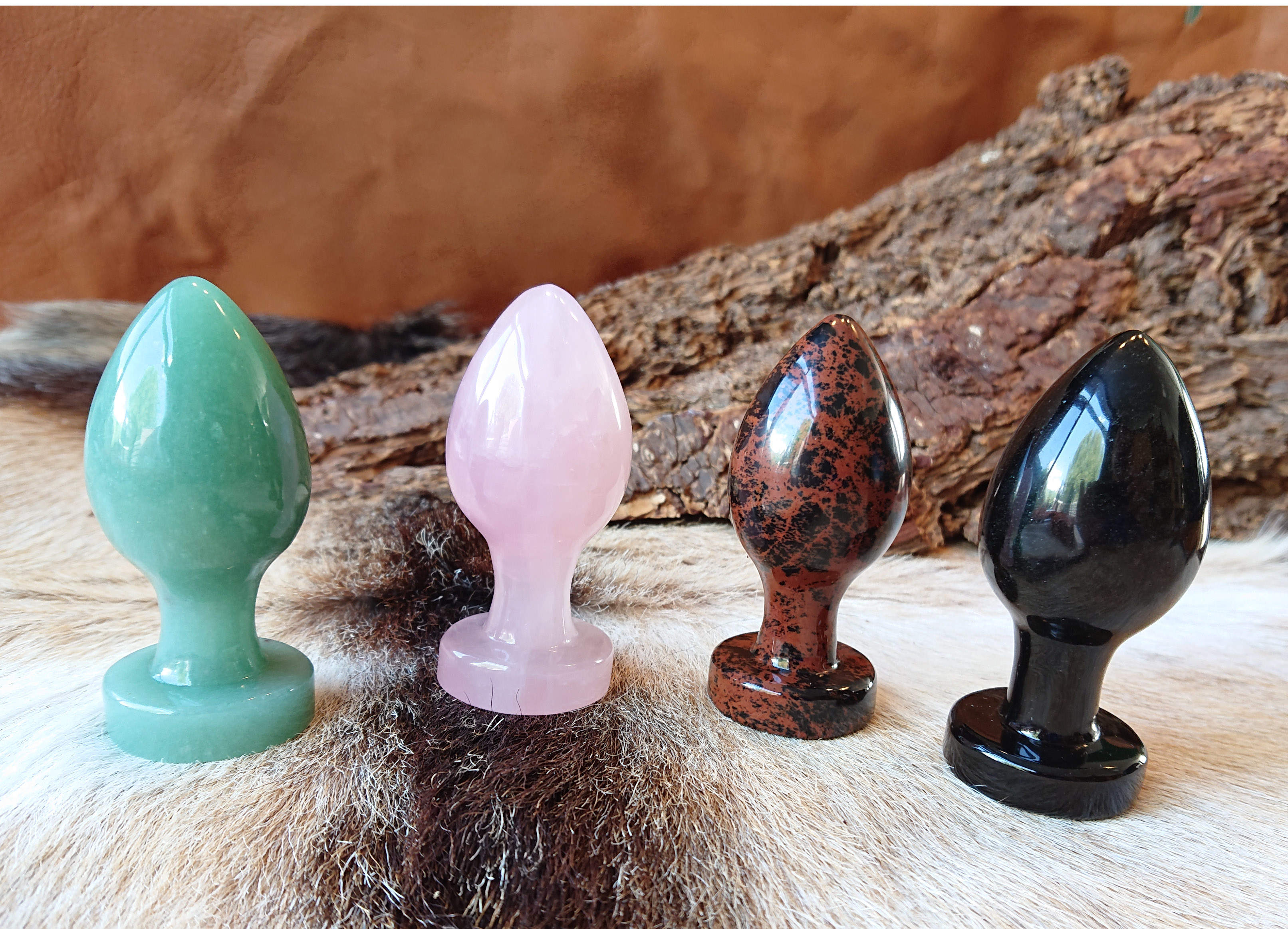 Cave Dweller Collectie
€70.00 incl. btw*
Slechts 3 resterend
De Cave Dweller is een anaal plug die zowel mannen als vrouwen een lekker vol gevoel kan geven, of deze nu solo wordt gebruikt of als extra tijdens een intieme sessie met je partner. De plug en de basis zijn uit één steen geslepen, dus de Cave Dweller is stevig en veilig voor gebruik.
De rozenkwarts en bergkristal zijn net wat kleiner dan de andere steen soorten (zie afmetingen in omschrijving).

Rode jaspis : Activeert je energie, stimuleert de fantasie en helpt je oprecht en eerlijk zijn (altijd belangrijk voor spelen!)
Obsidiaan: Geeft je een sterk inzicht, verminderd angst, verscherpt je zintuigen en het is goed voor je spiegel
Rookkwarts : Werkt Ontspannend, ondersteunt een positieve houding en werkt aardend
Rozenkwarts : De steen van de liefde, voor zowel jezelf als de romantische liefde. Kalmeert en ondersteunt zelfacceptatie.
Kwarts: Dit bergkristal werkt genezend, reinigend, brengt balans en harmonie.

Of, in de woorden van de makers zelf:
Backdoor play has never been more natural! With one of our Cave Dwellers to guide you, exploring your darkest cave is safe and satisfying. For men or women, this butt plug is perfectly shaped to be easily slid in and to stay put. Great for solo use or with a partner. Try vaginal sex with one of these in place for extra sensation for both parties!
_______________________
Natural stone can be a wonderful medium for intimate toys. Not only is it all natural, but it is very rare to have an allergic reaction to them. Additionally they can be easily cleaned with warm water and soap or even sterilized in boiling water. Not to mention that as these stones are already often thousands, if not millions of years old, they are sure to last a very long time!
Natural stone is also very versatile and can be used with any type of condom or lubricant that you like playing with. Another benefit to stone is that they can be used at room temperature or you can change the temperature for some extra excitement! Try warming it in a bowl of water next to the bed or play area, or put it in the fridge the night before for a chilling treat. Never put the toy in the oven or microwave!!
As with all our toys, the only limit is your imagination! Each rock is meant to be used in a number of different ways. They will all feel a little different and, may seem more appropriate in some situations than others. Explore, have fun and don't be afraid to try something new!

Productinformatie:
Merk: Cave Girl
Soort: Stenen anaal plug of yoni ei
Materiaal: 100% natuurlijk steen
Lengte: Obsidiaan en rookkwarts zijn 8.25 - 9 cm; rozenkwarts en bergkristal zijn 7.5 cm
Doorsnede: Obsidiaan en rookkwarts zijn 4 cm; rozenkwarts en bergkristal zijn 3.25 cm
Waterproof: Ja
Bijzonderheden: Omdat elke steen handgemaakt is, kan het zijn dat de kleur of maat net wat afwijkt.

* Gebaseerd op verblijf in Netherlands. Btw tarieven voor andere landen worden berekend aan de kassa. Prijs exclusief btw: €57.85.