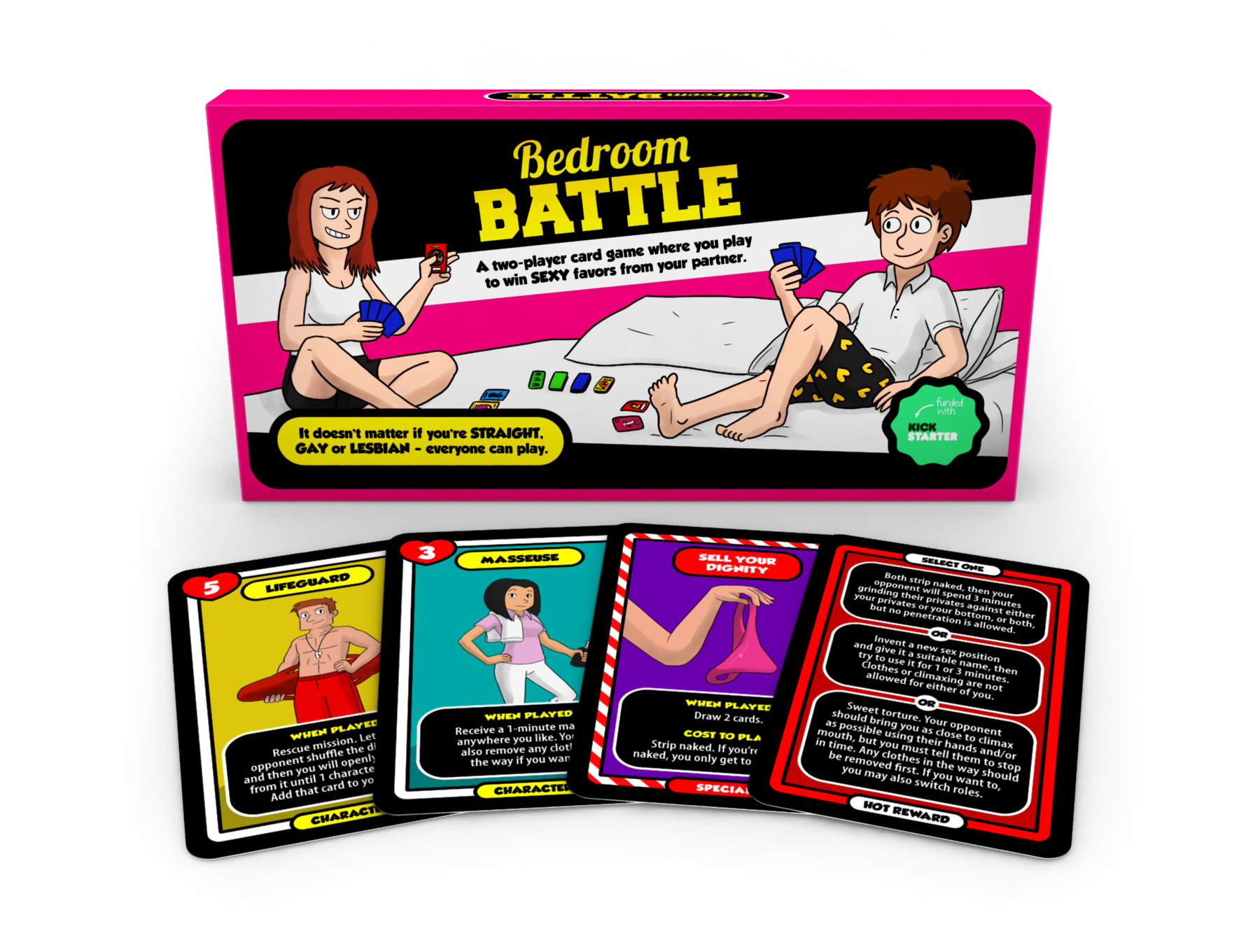 Bedroom Battle
€20.00 incl. btw*
Uitverkocht
Bedroom Battle is een spel voor koppels waarbij seks een nadrukkelijke rol speelt. De spelers strijden in elke ronde voor een beloning in de vorm van een opdracht voor de tegenspeler, waarbij de spanning gedurende het spel langzaam opbouwt naar een duidelijk hoogtepunt.
Elke beloningskaart bevat verschillende opdrachten die variëren van mild tot zeer spannend, en de opdrachten zijn geschikt voor elke spelerssamenstelling - iedereen kan dit spel spelen om met zijn of haar partner.
Of, in de woorden van de makers zelf:


Bedroom Battle is a sex game for couples where you play against each other to win rewards in the form of sexy challenges. Each round you use battle cards to compete for reward cards containing three sexy challenges to choose from, and then act out. The player who collects the most reward cards during the game wins and gets to pick a final, extra sexy challenge to end the game.
Seriously hot
Bedroom Battle is a real sex game where the focus is on sex and nothing else. Start with new and exciting foreplay, move on to intense challenges meant to build up your lust to the point of bursting and then end with a reward that is designed to bring both players to climax.
Challenge your limits
All reward cards contain three different challenges where one is a little softer, one is seriously naughty, and one somewhere in-between. Which one do you choose, and does your partner dare to complete it? If not, players can bail out two times each during a game, but only two times.
Fun and strategic
Bedroom Battle is not only about rolling a dice or drawing a card. It's a strategic card game where you need to manage your battle cards wisely in order to win the challenges you really want to act out, because you can't win them all.
For everyone
It does not matter what your sexual preference is. All challenges are designed to work for everyone – without compromise.
Video explaining how to play:
https://youtu.be/LGsfE2jc5Iw
Contents:
92 Battle Cards. 210 Sexy Challenges on 70 Reward Cards. 1 Starting Player Card. 2 Bail Cards.
Playing time:
You decide. 30 minutes or a whole day? It's up to you.
Language:
English.
Dimensions:
17 x 9 x 2 cm (6.7 x 3.5 x 0.8″).
Created by:
Tingletouch Games (
www.tingletouch.com)
.


**Deze product kan via brievenbus pakketje verzonden worden**

* Gebaseerd op verblijf in Netherlands. Btw tarieven voor andere landen worden berekend aan de kassa. Prijs exclusief btw: €16.53.